What causes you to move?  What spurs you into action?
Is it the ticking clock or the day on the calendar with the red circle around it?  Is the deadline looming before you?
Is it the dread of missed opportunities in the past, or disappointment you've cause others by your unwillingness to get going?
Is it a hunger or deep seated desire that burns from within that drives you on?
Is it a transcendent moment of inspiration that causes you to look up and away from your circumstance and see something higher and more beautiful, and you don't even notice that your feet have begun to move of their own volition?
There may be others as well, but I have to stop at this last one.  It's what brought me here to share this with you.
At the end of September I attended the annual Peacemakers' Conference.  It was in Dallas, TX this year.  This was my sixth one and each year I come away inspired and full of intentions to blaze a new path for the next year.
This year was special because I was able to graduate – here we are graduating (source)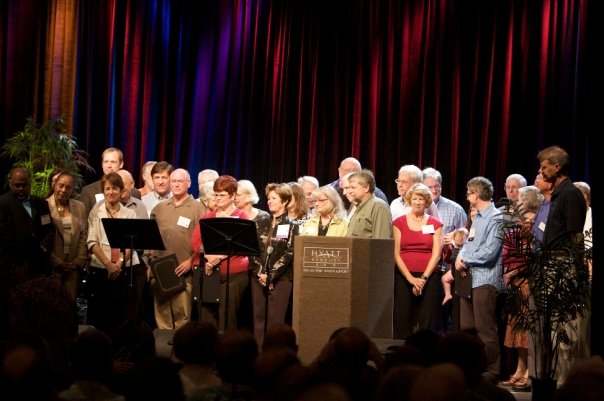 That's my big head popping up all the way over on the left.  The other tall, lanky bookend on the right is Ken Sande, the founder of the ministry and author of The Peacemaker: A Biblical Guide to Resolving Personal Conflict
(note this is an affiliate link to Amazon, I'll receive two nickles if you buy this book! And it's worth buying, I'll vouch for that.)
At the conference a video short was shown and I was one of many who asked if a copy could be made available for sharing or even using to make a point during presentations.  They are a responsive bunch out there at the Billings, MT headquarters.  They offered it up in a way I can share it here.
And it was this video that knocked me off center and got me to blog about it!  And that, in turn, will cause me to share the super secret location of this blog with you because I want you to see this little video.  And now that you know I'm here, you can come back and visit and hold me accountable to launch out and press ahead. (You can get an e-mail to tell you I've posted something here if you will share your e-mail address with me in the little box over on the right.
This video is kind of a mind trip, so get your headphones on and turn up your brain's neurons – you only have to pay attention for less than two minutes.  I know you can do it.
You must comment below and tell me your impression. I was really impacted and I want to hear from you about how it touches you.